As an author, you dream of getting a stunning book cover for your new work that will attract every reader's attention. But an eye-catching book cover doesn't mean only a beautiful image. It depends on a particular design.
And do you know there are at least 5 main types of book cover design? And each of them works differently. In today's article, we want to tell you more about these types, show examples, and help you choose the most suitable one.
What are the main types of book cover design?
We define a specific book cover design according to the type of images we use. Let's take a closer look and see how it works.
1. Stock photo manipulation
Briefly, it's a kind of a well-thought-out collage as such book covers consist of several images harmoniously combined and photoshopped. Sometimes readers don't even realize that it's not a single image because of the designer's craftsmanship.
Stock photo manipulation is one of the most widespread types of book cover design as it's cheap and accessible. You can find necessary high-quality images in a few minutes without getting out of the home. Thus, you don't need to arrange a photoshoot of Big Ben because there are over 70,000 stunning pictures of this landmark on such websites as Shutterstock.
We'll tell you even more: Today, stocks contain not only real photos but graphic drawings that you can use as an element for the book cover. For example, if you deal with the story about zombies, you don't have to bring the dead back to life. Go to Adobe Stock and find more than 178,000 pictures of zombies there.
Book cover design by MiblArt
However, stock photo manipulation has some disadvantages:
Here, it would be best if you considered what

rights to use

you have. For instance,

Standard License

on Shutterstock allows you to use the image an unlimited number of times in digital applications and up to 500,000 times in print runs.

Other authors' book covers can contain the

exact image

you've chosen for your story.

 
2. Illustrated cover
This type guarantees that your book cover will be one-of-a-kind with a distinct visual style. Thus, it's a workable way to stand out from the crowd. After all, artists create such covers from scratch, so you don't need to worry about seeing the same image in someone else's book.
Using this method, you can depict anything on your cover: protagonists, mansions and castles, mythical animals, artifacts, etc. The design can be minimalist, hinting only at the book's main idea, or very complex, hiding a range of details from the book and including flowery patterns and ornamentation.
Illustration works great for book series covers. An excellent example is J. K. Rowling's Harry Potter books. Each part is made in one bright style, with beautifully drawn characters and many eye-catching details. Also, illustrated covers are the best options for fantasy and science fiction. So, if you write book series of this genre, you should consider such a type of design.
Illustrated book cover design by MiblArt
But what are the cons of illustrated covers?
The

price can bite

. In the USA, book cover artists earn at least

$ 26.22 per hour

. And the illustrated cover design takes several hours or days, depending on the complexity.

It takes much

more time

. If you don't have a ready-made idea, the artist must develop the illustration concept and agree it with you. And only then start drawing. In addition, edits may take some time as well.
3. 3D modeling
Here the title speaks for itself because such covers contain three-dimensional images you want to touch. They are pretty innovative, so no wonder they catch the readers' eyes when 2D book covers dominate the modern market.
3D modeling has its superpower: An ability to immerse your readers into the fictional world momentarily. They don't need to start reading the book when your story takes their thoughts.
3D book cover design by Miblart
And here's good news! MiblArt has launched a premium book cover design service. Choosing it, you'll get a stunning book cover with 3D photorealistic characters and a digitally painted fictional world. That will bring your book to life and make it hold up against others in a genre.
Choosing 3D modeling, you should know that it can be expensive because it requires more time and effort than 2D book covers.
4. Original photography
This type of book cover design is not very popular compared to others. After all, designers turn to it when it is impossible to find appropriate images. And in today's world of photo stocks and graphics programs, it happens rarely.
However, we cannot do without original photography when discussing such a genre of literature as biographies and memoirs. Then these books become recognizable and find their readers.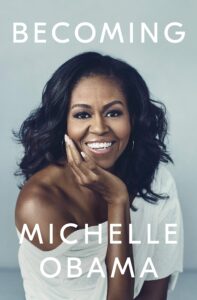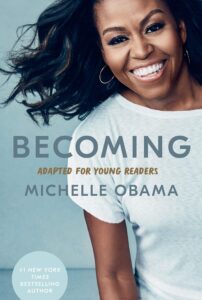 Book cover examples from Amazon
And now about the cons. It may surprise you, but original photography can be a much more expensive design than illustration or 3D modeling. After all, it involves more than just taking photos. You need to find and pay for the location, hire a make-up artist and stylist, take care of lighting, logistics, etc. It doesn't sound very profitable, right?
5. Premade book cover design
In a nutshell, they are ready-made book covers that you can buy anytime. You can have a story that fits the image and customize it if necessary. Also, as a rule, such covers are sold only once, so don't worry about seeing the same picture elsewhere.
Premades include many advantages:
You get a

complete understanding

of how your book will look at once. And you don't have to wait until the designer finishes the work.

They're

cheaper

as they're made to target a wider audience and don't consider some specific author's desires.

Premades

fit the genre

. Each genre has its particular features, and designers know all of them.

Ready covers can

inspire

you to write new books. For example, you may love a book cover so much that you'll want to write a story for it.

They come in

different styles

: Illustrated covers, 3D modeling, minimalist images, or a range of details.
Book cover design by Getpremades
What about cons?
If you found a stunning premade cover, you should move fast not to miss it as there can be

many people willing to buy it

too. 

Premades

aren't too specific

and don't suit those authors with a vision of their book covers.
Well, now you're aware of the main types of book cover design. When choosing one, you should consider whether the result outweighs the money and effort spent.
What type of book cover design should you choose?
Indeed, it's your book cover, and you decide what design to choose. However, we want to share some tips that will help you make the right choice.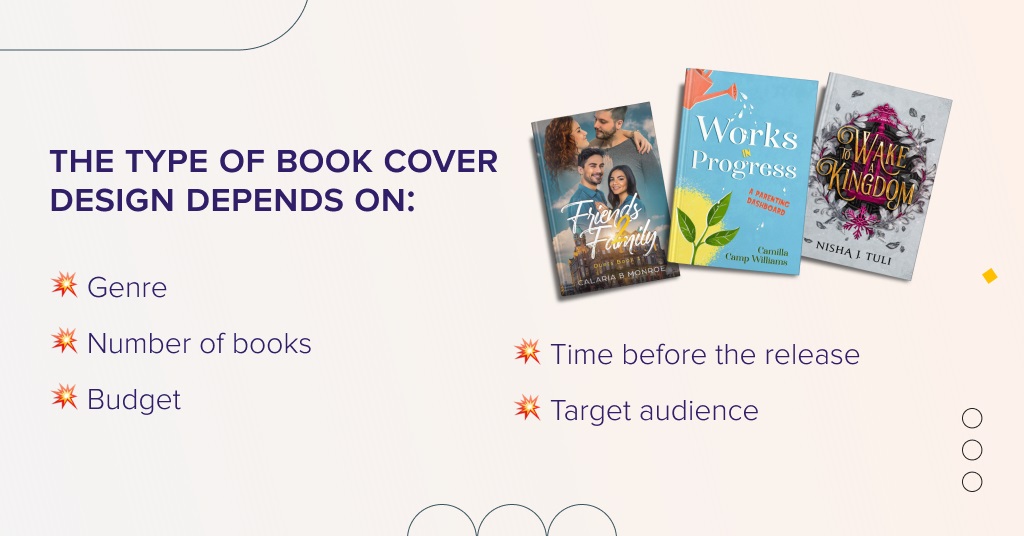 Genre
As we've mentioned above, each genre has its standards in book cover design. For example, fantasy stories include mythical creatures, flowery ornamentation, and complex composition. So it's hard to follow these standards with stock photos, and choosing illustrated covers is better. But stock photo manipulation fits thrillers, romances, and science fiction.
Number of books
To create a series, you should remember that all books should come in one style. With stock photos, it can be challenging as it's hard to find similar images for the whole series. Also, premade covers don't work for sequels great because they usually come in one example. And then you have to order designs for other parts separately.
Budget
You can dream of a vivid 3D cover with millions of details and characters. But if your budget is limited, you can order quality work in advance. Paying attention to cheaper options, such as stock photo manipulation or premade covers, is better.
Time before the release
The book cover isn't only an essential part of a book but a powerful tool for marketing. It should be ready in 1-3 months before the book is out to use it for promotion. So if the release is just around the corner, it's better to choose a premade cover or stock photo manipulation. Complex illustration or 3D modeling can take a lot of time.
Target audience
Potential readers' tastes play a crucial role too. For example, if you write romances for housewives, it appears they enjoy covers with passionate characters. If you create stories for kids, they prefer bright illustrations. You should consider this fact when selecting the type of design.
Summing up
To recap, we have the five most popular types of book cover design: Stock photo manipulation, illustrated covers, 3D modeling, original photography, and premade covers. Each of them has its cons and pros. 
Stock photos and premades are the cheapest options when 3D modeling and original photography are more expensive. 

Illustrated covers take a lot of time and effort, but it's a chance to get a one-of-a-kind book cover. 

3D modeling allows you to immerse your readers into the fictional world.

Original photography mainly suits biographies and memoirs.
When choosing the type of design, consider the book's genre, the number of sequels, your budget, and the time before the release. Also, it would be best to study your target audience to determine how to satisfy your readers' tastes.
What type of book cover design will suit your story? Please share your thoughts with us.