'Once I publish my book, I will start promoting it.'
No, don't do that. It would be best to start marketing long before the book is released. We will say more: Even before you begin writing it. In such a way, you will have more chances to get success, many readers, and high sales. Isn't that what you aspire to as an author?
So today, we are here to tell you how to write a book marketing plan and how to promote your book at different stages of writing. Let's start.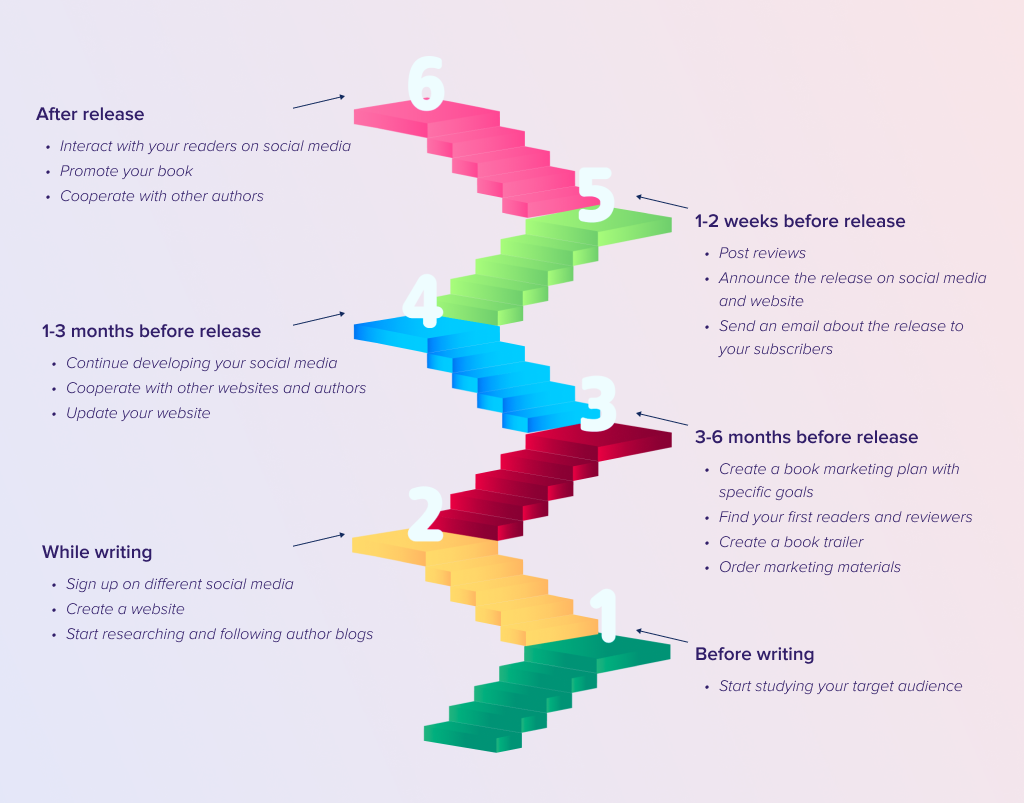 Before you start writing a book
At the very beginning, you should start studying your target audience. After all, it will help find a unique approach to readers, using their tastes, preferences, and character traits. That's why the better you know your potential audience, the better your author's marketing plan will be.
The next question is: How to determine your target audience?
1. Let's start with the most straightforward step: Define your book's genre.
2. Write a value proposition. To do this, answer a few questions:
What is your book about?

What is the goal of your book?

Why do your readers have to buy your book?

How does it benefit your readers?

What emotions does your book evoke?

How is your book different from all the similar ones?
3. Create your audience persona. Here, you should consider two factors. The first is demographics covering gender, age, income level, education, family status, occupation, and social status. The second thing is psychographics, including interests, activities, and opinions. In addition, you can study such factors as desires, fears, needs, political/religious views, and more.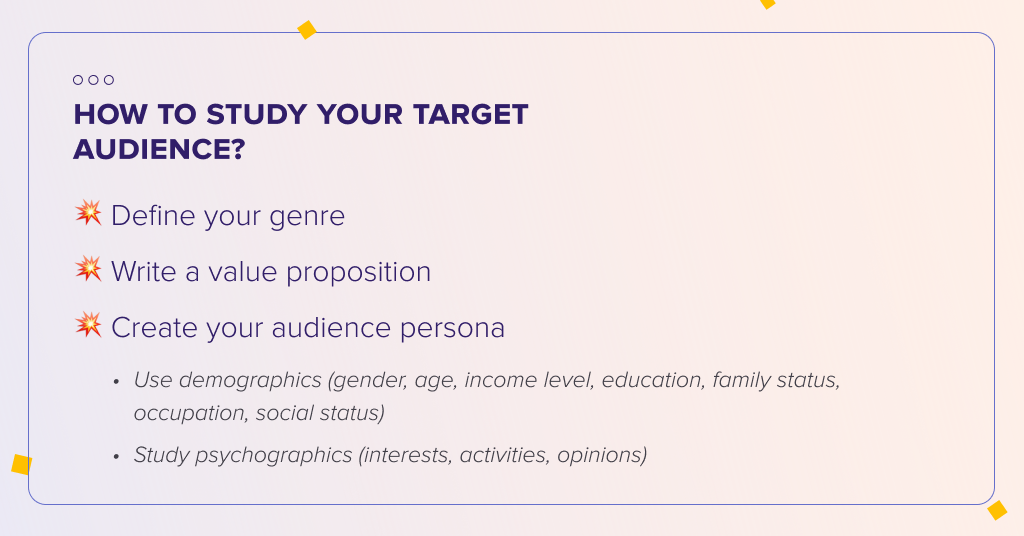 Indeed, if you can't gather information concerning each item, you may skip something. But still, you need to have an image of your potential readers as complete as possible.
While you are writing a book
If you've already started writing a book, it's the time to consider your writer's marketing plan. Here's what you need to do to get started.
Create social media accounts
It can be Facebook, Instagram, Twitter, LinkedIn, TikTok, whatever. Depending on your target audience, you can use all social networks or choose several. For example, if you write for older people, TikTok is hardly a good channel to communicate with them.
You don't need to create a separate account for your book. Instead, create an author's page where you will post announcements, news, and other engaging things. After that, develop social networks.
Join author groups

. It is an excellent place to build relationships with other writers you can work with later. Also, you can communicate with your potential readers in those groups.

Connect with book bloggers

. You need to pay attention to those whose target audience matches yours. In the future, you can turn to book bloggers for reviews of your book.

Share some quotes and excerpts from your book

. Such things work as marketing materials. They will intrigue readers and keep them interested in the release

.
Create a website
An author's website is an essential thing as:
a) It influences your reputation positively because people tend to trust websites more than social media. 
b) It's an excellent channel to communicate with your target audience. 
c) It provides functions that social media don't have (for example, SEO). 
So, how do you make it work for you at this stage?
Start running a blog

. Write about the behind-the-scenes moments of writing your book and share some creative insights. Unlike social media, you can choose the blog's format and design you like.

Build your email list

. It's an excellent opportunity to gather emails from potential readers to send your newsletters. To do it, add a subscription button to your website. Also, you can offer valuable materials in exchange for leaving emails.
Start researching and following author blogs
You should pay attention to those authors who write similar books. Here is a tip on finding such writers: Go to the Amazon online store, select your genre, and voila. Everything you need is to google their names to see their social media pages or websites.
Why is it vital to follow other authors' blogs?
If you're an aspiring author, it's a chance to learn how experienced writers keep their blogs.

You can pick up some tricks and tips for your book marketing plan template.

It's an excellent chance to find authors for future cooperation.
3-6 months before the release
You've already finished your manuscript and have some free time while your brain rests between editing sessions. So, it's an excellent opportunity to extend your marketing plan for self-published authors. What should you do?
Create a book marketing plan with specific goals
Here we emphasize the importance of specific goals, as well as ways to achieve them. That is, if before, your plan contained only a list of cool marketing moves, such as giveaways or running radio ads, you now have to decide what you want to get. And whether those ways are suitable for achieving your goal. 
What can be the marketing goals for indie authors? Probably, you want to get over 1,000 new readers who will purchase the book and join your author's page. Maybe, you want to sell more than 2,000 books a year. Or you dream of becoming a recognizable author worldwide and receive invitations to speak at famous literary conferences. It would help if you decided which goals to achieve. It may be one or several aims.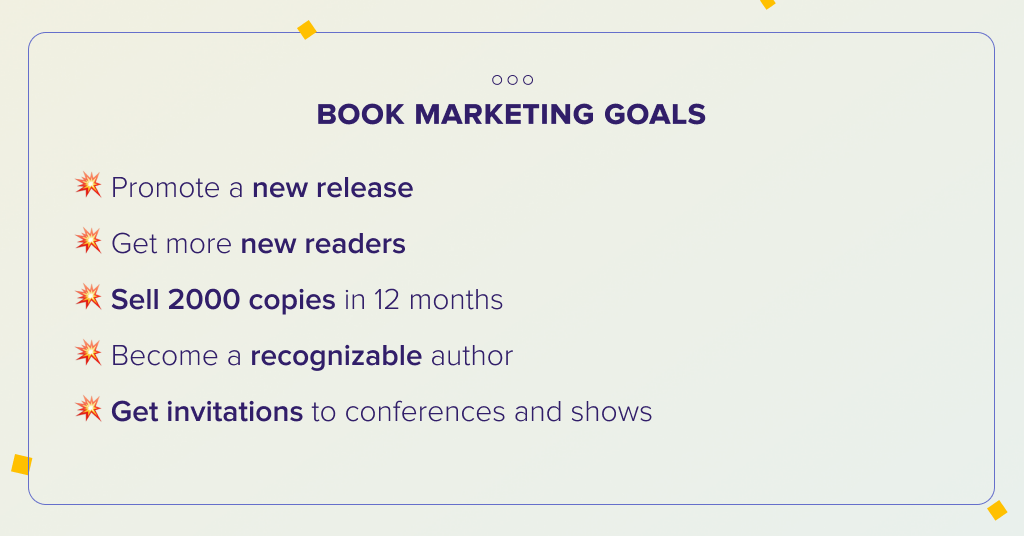 Find your first readers
Do you know that reviews are one of the top reasons people buy books? For example, 33% of readers consider impressions about books before purchasing in Canada. That's why it's essential to find your first readers who will prepare their reviews about your book before its release. 
Here, you can act in several ways:
Use beta readers

. It's a crucial way to improve your manuscript while editing. They can tell how to enhance the plot or characters.

After editing,

find ARC readers

and send them a pre-published version. It's essential to do it earlier, so they have time to read your book before release.

Contact book bloggers

who can become your ARC readers or first reviewers after the book release.
Create a book trailer
Not only movies have trailers before the premiere. Today, a book trailer is an excellent way to promote a book because:
It's easy to consume and share.

It's memorable because of audio and video stimuli.

It works for SEO.

   
You can create a cinematic or animated book trailer to share on your social media pages. By the way, don't forget to add a QR code with a link leading to the video on your book cover.
Order marketing materials
It's an integral part of promoting a book online. After all, high-quality marketing materials look bright, professional, and catchy. You can order:
Banners with the release date

Backgrounds for your social media and website

Images for a book cover reveal

Quotes cards your readers can share.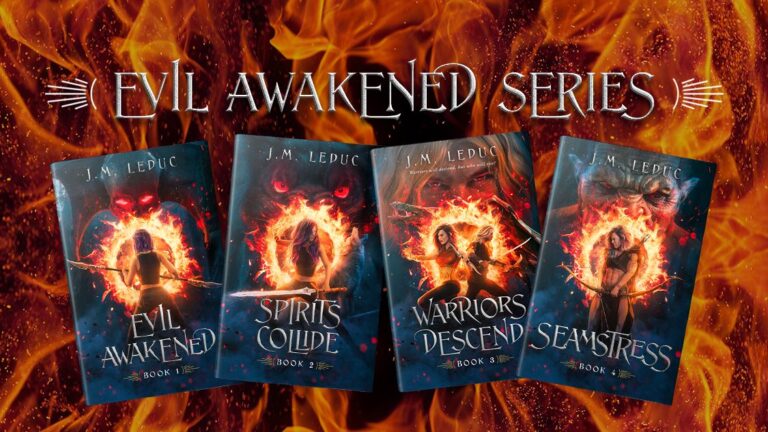 Also, you can create an author's logo to brand all your stuff and become recognizable.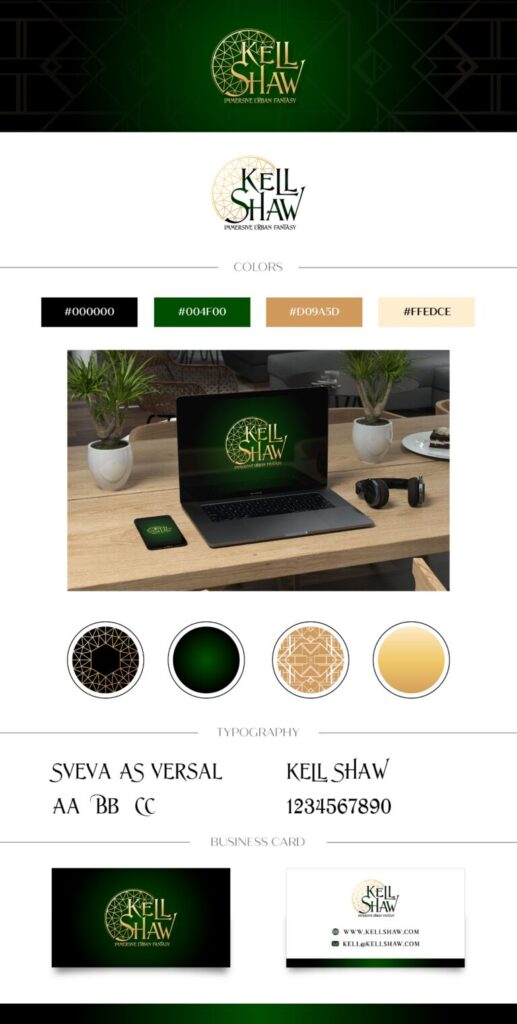 1-3 months before the release
You've already accomplished a lot, and we're proud of you. But your self-publishing marketing plan still has room to grow. What should you focus on when there are less than three months left before the release?
Boost your social media
So far, you've managed to start an author's page, regularly publish engaging posts, and get a certain number of readers. Now is the time to:
Share a book trailer to catch attention and tell about the plot. 

Make a book cover reveal to intrigue your readers.

Announce your upcoming release.

Set an ad campaign on Facebook and Instagram using detailed information about your target audience.
Cooperate with other websites and authors
Perhaps you've already compiled a list of authors you can mutually benefit from. Now it is also essential to take care of other websites. Let's see what to do at this stage.
Come up with a list of book promotion websites

. It can include not only author's blogs but also sites about the art of writing and books in general.

Submit guest posts to bloggers

. It should be a valuable publication where you natively mention your book, not just an 'ode to self.'

Submit your book to review websites

—for example,

Goodreads

,

Book Riot

, and

LibraryThing

.
Update your website
You've finally edited your book and received a book cover by this time. So now you should:
Add a book cover and synopsis to your website

. When describing a book, keep the intrigue and don't tell the whole story. Leave some open questions to readers.

Start sending newsletters

, informing readers about the upcoming release. Use an email list that you started collecting when writing the book.
1-2 weeks before the release
Wow! The release of your book is right around the corner. You can't wait for this moment. What's left in our book launch checklist?
Get and post reviews
Now you need to gather the entire harvest of reviews, the seeds you sowed six months before release. And all potential readers should see this harvest, so:
Post reviews from beta readers on your website and social media.

Make sure that ARC readers post reviews on other platforms, including Amazon. They influence your rating and help people choose your work.
Announce the release on social media and website
Yes, you've already announced the release of the book earlier. However, the closer to day X, the more often you need to do it. Don't forget to use marketing materials for this purpose. You can also count down the days before the release.
Send an email about the release to your subscribers
Make another reminder to the most interested readers that the book is about to be on store shelves.
After the release
Do you think we're done? No, it's not the time to relax. Even if the whole marketing campaign before the book launch was super successful and thousands of people rushed to buy your book, keep working. There are many ways to promote your book after its release.
Interact with your readers on social media
It's crucial to keep warm relationships with your readers, mainly when they've finally managed to dive into your story. They've got so many questions!
Host live chats

on Instagram, Facebook, TikTok, whatever. Let your readers leave their questions in the comments and answer them online.

Arrange events with a fellow author or editor

. Such a conversation is always fascinating and insightful for readers.

Arrange special giveaways

. It's an excellent opportunity to reward the most dedicated readers and make them happy

.
Visit book festivals
Here, you can communicate with your readers in person. It is also an excellent place to share experiences with colleagues and meet professional critics.
Arrange book presentations
You can choose a more classic option: Organize a book presentation at the bookstore. Here you will talk about the process of writing a book, the plot, and answer the questions. And everyone will be able to remove a copy and get an autograph.
A more extraordinary way is to launch a book in a museum or suitable place according to the book plot. For example, if you write about space adventure, it's an excellent idea to present your book at the planetarium.
Conclusion
Finally, we've climbed through all the peculiarities of the book marketing plan. Now, you know that you should divide this process into several stages. And the road starts with studying the target audience. 
Each stage and step is essential, whether we talk about creating social media accounts, establishing a website, or running a blog. Make sure that your marketing plan has specific goals. Take care of finding beta and ARC readers to get earlier reviews, which is essential for your rating. Order all the necessary marketing materials and create a book trailer. 
Send an announcement to your potential readers via social media channels and email when the book release is on the way. Don't forget to keep going with marketing after the book is out.
When do you usually start to promote your book? Please share your experience with us in the comments.