A book cover grabs the audience's attention, creates the first impression, and encourages readers to buy your story. That's why it's essential to invest in it.
When choosing a cover design, keep two things in mind. 
First, adhere to genre standards to signal to potential readers that your book is what they seek. Second, follow design trends to ensure your cover meets the market requirements. 
Today, we want to share 11 book cover design trends coming in 2024. Be ready to see some eye-catching examples and get motivated!
How to predict future book cover design trends?
Predicting the future is difficult, but we will try. So, what book cover design trends await us in 2024?
First, book cover trends are more or less stable and permanent. After all, the industry has established rules on what a marketable book cover should look like. It often does not make sense to reinvent the wheel. The main thing is to ensure that your book cover looks professional and harmonious, meeting the genre standards.
So we started by analyzing the past year's trends and bestselling books to understand the secret to those covers' success. In 2023, book design was characterized by minimalism, contrasting blends of colors and textures, prominent typography, illustrations, and patterns. Most of these trends are effective and timeless so we can see them even in 2021.
Then, we looked into general graphic design trends and outlined techniques for book covers. For example, 3D modeling, AI-generated art, and retro aesthetics will be popular in 2024. We can apply these trends to create realistic characters and enchanting fictional worlds. 
Finally, we have analyzed the covers of the most anticipated books of 2024. Some have already had over 10,000 people add them to their wishlists. Their covers also played a role in this hype, don't you agree?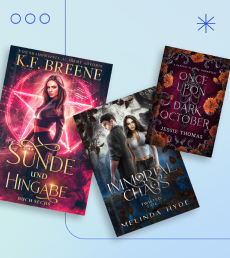 What are the top 11 book cover design trends in 2024?
Now, it's time to get into practice, explore the upcoming trends, and see some striking examples. Perhaps some of them will guide you on what cover design your new story needs.
1. Symbolic object-based book covers
The minimalist book covers, which do not involve many objects, complex decorative elements, or protagonists, remain in trend. Usually, they include the author's name, title, and one item with a symbolic or hidden meaning essential to the book's plot.
Usually, the background does not contain settings or landscapes but is a one- or two-tone canvas. Thus, the reader turns their full attention to the book title and wants to discover what is hidden behind the mysterious object.
Genre: Fantasy, Thriller, Mystery, Horror, Non-fiction. 
2. Complex and ornate patterns
Detailed and complex decorative elements occupy the entire plane of book covers. They include various patterns, symbols, and objects that are harmoniously intertwined. The reader can examine them endlessly in search of mysterious meanings.
Typography plays a vital role in this type of book cover because it must match the complex composition of patterns. When choosing fonts, it is better to prefer serif fonts with curls.
Genre: Fantasy, Thriller, Mystery.
3. Colorful illustrated book cover
s
Colorful book covers are another trend of 2024. Vivid drawings set the right mood and evoke certain emotions essential for the story plot. Readers can often see attractive main characters, bright settings, and cute animals on book covers.
Colors are vital as they grab the audience's attention, spreading positive and romantic vibes. As for typography, choose large serif or cursive sans serif fonts depicted in bright hues.
Genre: Romance, Young Adult, Cozy Mystery.
4. Realistic 3D modeling
This is a new level of illustrated book covers. After all, 3D modeling allows you to create realistic images of the main characters, as close as possible to the description in the book and the author's imagination.
In addition to the protagonists, you can depict 3D settings and different artifacts. This design trend allows readers to immerse themselves in the plot and touch the story as much as possible.
Genre: Fantasy, Science Fiction.
Book cover design by Miblart
5. Abstract cover designs
Abstract cover designs tease the readers' imagination with a glimpse of the narrative's soul. These covers are like visual puzzles, where bold shapes and vibrant hues are blended together, leaving room for interpretation. 
Eye-catching abstract covers invite readers to a visual journey that sparks their curiosity and leaves them craving more.
Genres: Romance, Memoir, Non-fiction.
6. Pop art and retro elements
A trend for vibrant pop art and retro elements in book cover design is coming back this year. Bold typography, explosive colors, and iconic imagery from the past century create a unique atmosphere. 
These covers scream fun and individuality, promising a reading experience that's as lively as the design itself. 
Genres: Romance, Romantic Comedies, Women's Fiction.
7. Flowery and botanic motifs
This trend has stayed relevant for many years; however, designers implement it differently each time. 
In addition to the classic decoration of the book title with flowers and plants, we can see how the designers use botanical motifs to play with the main character's appearance.
Genre: Romance, Young Adult, Fantasy. 
8. Intriguing collages
Do you remember those days of cutting and pasting in art class? Collages aren't just for glue and scissors anymore. They've taken over book covers! Photographs, handwritten letters, and quirky snippets come together to create a visual feast. 
These covers tell a story before opening the book, giving the audience a taste of the eclectic charm waiting inside. It's a delightful mix of the old and the new, promising a unique reading experience.
Genres: Women's Fiction, Romance, Memoir. 
9. Double exposure
Double exposure is an excellent way to catch readers' eyes with your book cover. It involves blending two images into one breathtaking masterpiece. Imagine a mysterious forest blending seamlessly with a captivating character or a silhouette revealing a fantasy world.
Such immersive covers don't just tell a story. They invite readers to unravel its layers, promising an adventure beyond the obvious.
Genres: Romance, Fantasy, Memoir.
10. Typography as a key element
This trend proves that we don't always need attractive main characters, iconic objects, or fantastical landscapes to create a selling book cover. Sometimes, it's enough to use creative typography, which takes a central place in the composition or generally makes up the entire book cover.
This trend involves choosing an unusual font, combining various options, placing it, or playing with colors and textures. After all, typography can also create the right mood and evoke emotions.
Genre: Romance, Science Fiction, Thriller, Horror, Non-fiction.
11. The AI-generated book covers
2023, which was the year when software capable of creating drawings burst into the lives of millions. If earlier such a tool was only available to a limited circle of people, Midjourney made this opportunity accessible to everyone.
The use of AI-generated images to create book covers remains controversial, mainly due to copyright issues. However, we expect this direction to develop in 2024, and people will continue experimenting with Midjourney.
Genre: Fantasy, Horror, Thriller, Romance.
Book cover design examples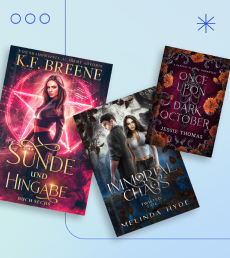 Summing up
We hope you got a dose of inspiration for your new book cover. Let's recap what creative and extraordinary trends await us in 2024.
Minimalist object-based book covers with symbolic meanings

Detailed and ornate patterns with many elements

Colorful illustrations

Realistic 3D modeling of characters and settings

Abstract cover designs

Pop art and retro elements

Flowery and botanic motifs

Collages

Double exposure

Prominent and eye-catching typography

AI-generated images.
However, trends are not obligatory rules. They can inspire you or help you find a direction to move. It's essential to design a book cover considering your genre standards and target audience.
What book cover trend do you like the most? Share your opinions in the comment below.