Are you looking for a way to launch a word-of-mouth machine to boost your book promotion and reach new readers? Then, consider getting your author swag.
Author swag includes free items related to your book. They create a wow effect, excite your readers, make them smile, and feel a deep connection with your story. Moreover, fans usually carry such items with your cover or branding, so people around can notice and get interested.
In this blog post, we've got 20 fantastic author swag design ideas that will help you connect with your readers and create buzz around your book.
1. Bookmarks
Bookmarks are the most popular and versatile author swag, as few readers can do without them while exploring new stories. They're a perfect canvas for your book branding. You can create bookmarks with your cover, author logo, or a catchy quote from your novel.
2. Stickers
Stickers are also versatile and fun. You can customize them with your book covers, quotes, characters, settings, artifacts, or even artwork related to your stories. Readers can stick them on laptops, notebooks, water bottles, and more to show off their bookish pride.
3. Jewelry
Such a kind of jewelry doesn't have to be expensive. You can choose rubber bracelets with quotes or charms in the shape of books incorporated into necklaces or earrings. These are subtle yet stylish ways for fans to connect with your work.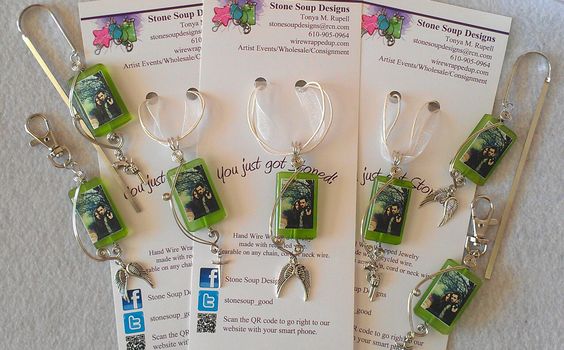 4. Bags
Tote bags are incredibly practical, and custom designs featuring your quotes or book covers can become a walking advertisement for your writing. Readers can carry them to the library, bookstores, or simply as an everyday accessory.
5. Cups
Custom mugs with your book cover art, author quotes, or even character illustrations are perfect for cozy reading sessions. They can be used for hot drinks, adding an extra layer of immersion for fans.
6. Buttons 
Buttons, badges, or pins are small and affordable swag items. You can feature a book's title, catchphrases, or even your cover on them. Buttons are great for fans to wear on clothing or bags.
7. Lipstick
Do you write romances with confident and gorgeous women as protagonists? Then, themed lipsticks can become the perfect author swag for your fans. Contact a cosmetics company to create your signature lipstick shade inspired by your book covers or characters. It's a creative way to blend the world of fashion and literature.
8. T-Shirts & socks
Vibrant T-shirts and funny socks with your branding, book quotes, or memorable artwork are wearable promotions for your novels. They allow fans to display their love for your work proudly. 
9. Pens & pencils
Engrave your book title, author logo, or book-related imagery on pens and pencils. These items are practical. When readers and writers use them publicly, they will promote your books even subconsciously.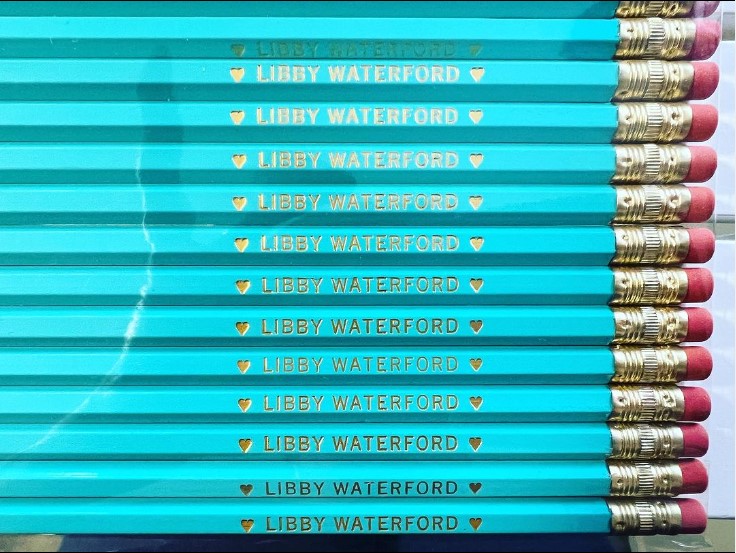 10. Notepads
Thematic notepads featuring your logo, cover, or characters are another type of versatile author swag. People can never have enough notebooks, can they? Notebooks are handy for jotting down ideas, and readers will remember about you each time they use them.
11. Sweet treats
Custom lollipops, jelly beans, dragee, cookies, and chocolate featuring your book cover or author logo are delightful giveaways at book events. They add a sweet touch to your promotional efforts.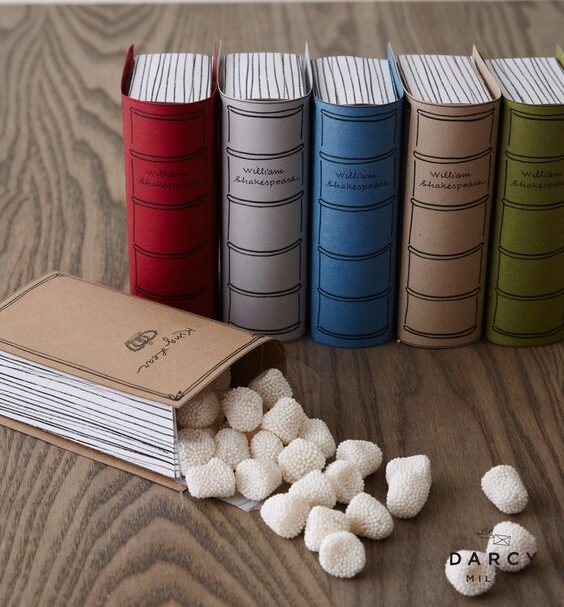 12. Posters 
Readers can use posters with your book covers, inspirational quotes, or stunning artwork to decorate their spaces. Moreover, you can offer them libraries and art cafes. Such posters make for fantastic wall decor, adding a visual element to your fan's dedication.
13. Postcards
Postcrossing is still a popular hobby, so you can design postcards to promote your book worldwide. Fans will send them to fellow bookworms in all corners of the planet. Moreover, you can offer a pack of these postcards for free at post offices.
14. Hand sanitizers
All of us have already seen that hand sanitizers are essential. Design custom sanitizers with a label that matches your author's brand. They're practical and promote health and safety, which is especially relevant at book events.
15. Candles
What bookworm doesn't like to create a cozy reading atmosphere? Scented candles with bookish labels are perfect for this purpose. If you have mentioned specific flavors in your story, readers will be happy to have such candles at home.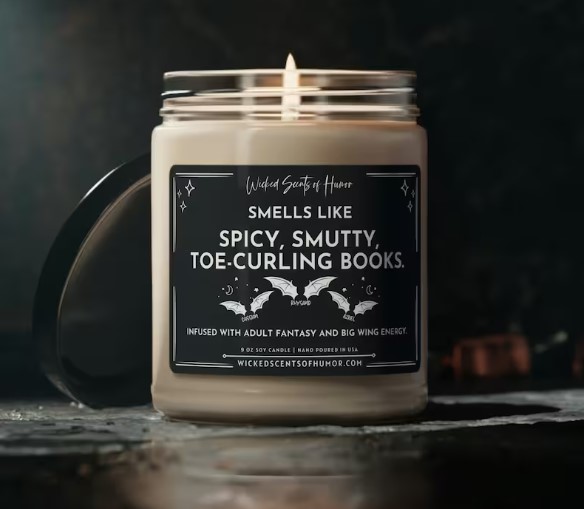 16. Keychains 
Miniature keychains with your book cover or favorite quotes are practical accessories that fans can carry with them. They're functional and can serve as a daily reminder of your novel.
17. Signing stickers
Not all fans can attend offline book signing sessions or other literary events. However, they would be happy to have your signature on their copy of your novel. So, create transparent sticky notes to sign and then send to your fans.
18. Magical artifacts
If your fantasy world contains magical artifacts, offer them to your readers. Crystals, wands, amulets, potions, lists of spells, or other items can add an element of enchantment to your swag collection.
19. Page overlays
Transparent page overlays with favorite and meaningful scenes from your story make every reading experience unique. They help readers immerse in the plot deeper, connect with characters, and get aesthetic pleasure.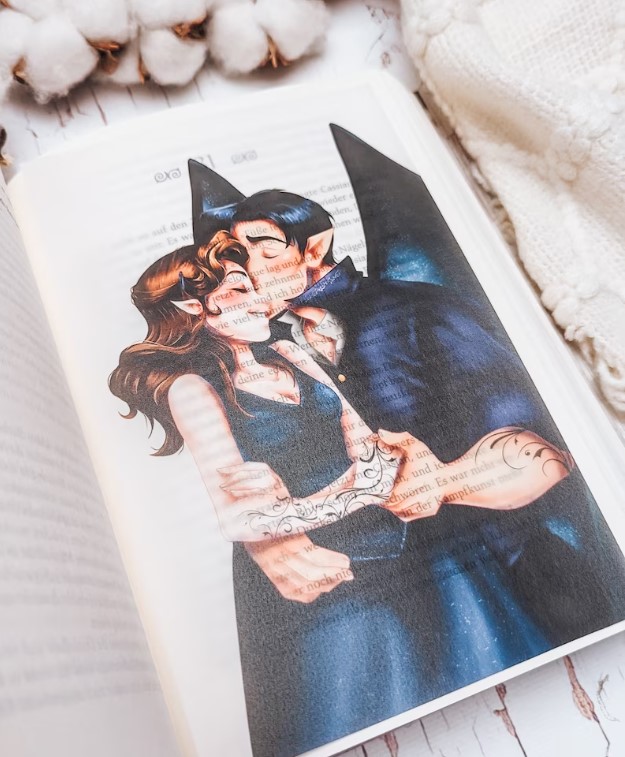 20. Temporary tattoos
Does your protagonist have a unique and recognizable tattoo? Let your readers also get it. Design temporary tattoos with your book motifs so fans can apply them on their skin and feel more connected with their favorite characters.
To wrap up
Indeed, these are not all the possible author swag items. It depends on your imagination and capabilities. You can use universal win-win options, such as bookmarks and stickers, or create something unique based on your book's plot.
Meanwhile, we at Miblart will happily bring your ideas to life with our author swag design service. 
Which idea do you like the most and want to use in your next book promotion campaign? Share your thoughts in the comments.