Do dozens of open tabs annoy you while writing a book? Moreover, you can't close any of them, as they contain essential information, character profiles, or a book outline. There is a way out! Use Notion to organize your writing process and keep everything in one place.
Keep reading to discover all the benefits of this all-in-one workspace for indie authors and learn how to make the most out of Notion when writing a book. As a bonus, we have also prepared a list of the best Notion templates for authors.
Are you interested? Let's start.
What is Notion?
Notion is a super convenient app that includes a range of organizational tools, such as to-do lists, bookmarks, databases, Kanban, notes, and much more.
Why should you start using this app? Simply speaking, Notion has a variety of embedded integrations and features, so you don't have to combine it with other tools.
It's free for personal purposes. Create as many workspaces as you want.

This app is flexible and easy to use so that you can adjust it to your needs and tastes.

It supports many helpful plugins, like Unsplash, Miro, Trello, Google Drive, etc.

Notion is accessible from a laptop, tablet, and smartphone.

It allows you to keep essentials in one place.
By the way, the list of embedded useful features continues to grow. In particular, in November, the company introduced Notion AI, a writing assistant that can help users write, brainstorm, edit, whatever.
How can indie authors use Notion for writing?
Today, over 30 million people use Notion. If you are not in this crowd or you haven't tried this app yet, let's look at how indie authors can use Notion for writing. You get a chance to:
Set writing goals and plan a year

Develop characters

Plot a story

Arrange visuals for characters and settings

Organize research details

Track progress

Create a marketing plan

Arrange meetings with editors, beta readers, and others

Make a list of soundtracks

Write and edit a book.
The limit of Notion usage depends only on your imagination. But enough about its advantages, let's move on to practice.
How to use Notion to organize your stuff?
The Notion platform offers a simple tutorial at the very beginning. Check it out to feel more confident and avoid getting lost while creating your writing space. 
One more thing you should know: Notion is like a Lego, so you can easily add text, buttons, and images, move blocks, and various combinate elements.
We suggest you the following steps on your way to becoming a Notion pro.
Step 1. Explore Notion
After catching a basic idea of how Notion works, start with a draft page and try to create different blocks, add images, and resize them.
If you click the three dots in the upper right corner, you can choose the font style and set the full width of the page. Don't forget to change the cover: Upload your image or select one from Unsplash photo stock.
You also should try different keyboard shortcuts. For example, the markdown style symbols followed by space are:
Type [] to create a to-do checkbox

Type *, -, or + to make a bulleted list

Type > for a toggle list

Type " to create a quote block

Type 1., a., or i. to make a numbered list.
Find more shortcuts by visiting the Notion help page.
Example from Notion
Notion also provides many embedded plugins, such as Google Drive, Miro, PDF, etc. You probably use some of them, so add them to the draft page and see how they work there.
Have you already tested all the features? Great, let's start to create your writing workspace for real.
Step 2. Decide which sections you need
You can use Notion for different purposes, determining how many and what pages you need. We gathered some ideas for you below.
You usually don't need additional navigation in Notion, as all sections are available in the left sidebar. However, you can create an atmospheric Home page by adding a themed cover, your favorite music playlist, an inspiring quote, etc.
Example from Notion
It can be a separate section where you collect links to helpful articles about writing with advice, writing checklists, and even video lectures by famous writers. Keep all valuable information in one place.
Stephen King once said, "If you don't have time to read, you don't have the time (or the tools) to write. Simple as that.". So, as a writer, you must read a lot and stay tuned to all new releases. Notion can help to keep your reading list organized.
Example from Notion
You should make a separate page with the important information you found during your research for your book. It makes sense to keep it in Notion for instant access. In addition, you can add links to pages, images, videos, etc.
This is the section with your manuscript. You can write a story on a full page or make subsections for each chapter.
Notion is a super convenient planning tool, including writing goals. You can use a free or paid template or create your planner. Divide it into several sections, writing down general goals for the year, each month and week. Add a calendar to record daily steps toward your goals.
Example from Notion
Sudden ideas and bits of dialogue
Have you ever had a piece of brilliant dialogue pop into your head, but you haven't figured out where to use it? The same thing happens with sudden story ideas. You should definitely create a separate page for this.
Notion offers all the necessary tools for step-by-step book planning. You can use existing functions for this, for example, a Gallery database, a table, or an embedded Miro plugin.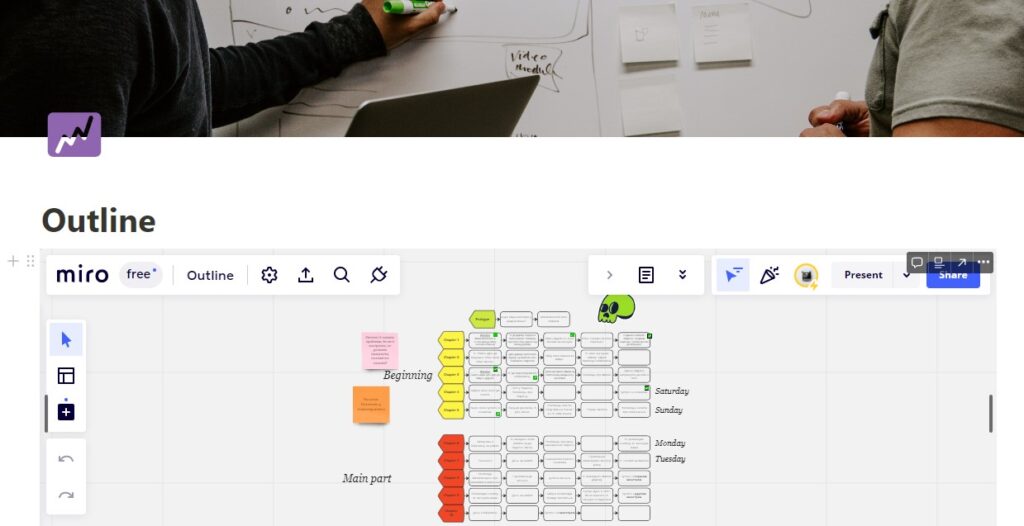 Example from Notion
Since it is best to plan a marketing campaign before the book is published, creating a separate page for this purpose makes sense. Set aside a separate section for this, including advertising ideas, a social media plan with dates, links to helpful services, and more.
Notion allows inserting images and videos by uploading them from your computer or stock photos, so you can easily create a gallery of references to characters and settings. Create a separate card for each hero and object, and add many pictures, descriptions, and questionnaires.
Example from Notion
Invent categories that reflect your purposes and needs. It can be sections with soundtracks for each chapter of your book or a mood board with inspirational images.
Step 3. Look through ready templates
Now you have a list of desired and required pages. However, before you start creating them from scratch, you should look at the templates gallery. After all, some of them are ready to use, and others can be adapted to your needs if you wish. So do the following:
Check out the pages available by default

: Quick Note, Personal Home, Task List, Journal, and Reading List.
Example from Notion
Go to the Template Gallery

with free and paid templates. Look through such categories as Reading & writing, Marketing, Planning, Personal, and others. You will probably find something suitable for you.
Haven't you found a perfect template? Then everything is in your hands.
Step 4. Create pages from scratch
If you're new to Notion or don't have a clear idea of how your writing workspace should look, creating pages from scratch will take much time and effort. Therefore, accept this fact and don't get upset if something goes wrong.
Don't be afraid to experiment with various block types and styles. Add images, colors, and emojis if you want more coziness and atmosphere. You can always delete things that don't work right, as well as restore them from the trash.
As for the rest, we are sure that this creative work will capture you for hours.
How to use Notion as a writing tool?
Here is an exciting fact: Co-founder & CEO of business intelligence company Clearbit, Alex MacCaw, wrote his first book in Notion. So can you. 
The benefits of writing books in Notion are:
Simple interface without distraction

Access from different devices

All necessary information is at your fingertips.
There are two options for how to do it:
Embedded Google document.

You can write your story right in the Google document as usual.

Notion page

. In this case, you should create a separate page. You can edit the manuscript, adds comments and notes, and share it with your editor, beta readers, and friends.
Example from Notion
Bonus: Helpful templates for writers
To save time, we've already found some cool Notion templates you can add to your writing workspace.
1. Writers Dashboard
Price: Free
2. Story Writing Template
Price: Free
3. The Writer's Kanban
Price: Free
4. World Building Bible
Price: $19-28
5. Storybook Pro
Price: $15
6. Notion Story Wiki: Worldbuild, Plot, Write
Price: $8
Summing up
Can't wait to check Notion out for your writing? Don't hold yourself back; try setting up the base pages for convenient work on your book today. We believe that after some time, you won't imagine how you lived before without Notion.
Have you already tried this app? Share your experience in the comments.