This is your ultimate guide to book cover design.
We mean it. Everything you need to know about book covers is right here.
We'll talk about custom book cover design ideas, principles, and elements. 
You will learn about:
the importance of a good book cover;
techniques used in book cover design;
book cover design tips;
what a book cover should include;
what book cover colors sell best;
how and where to find a professional book cover designer;
Can it get any better? We highly doubt it.
So if you're looking to expand your knowledge about book cover design, you'll love this guide.
Contents
Don't have time to read the whole guide? No problems. Just click on the chapter you are interested in, and you'll be redirected to it.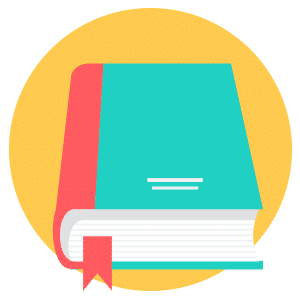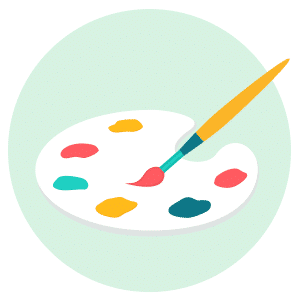 Importance of a book cover
A book cover has a few essential roles:
Serves as a strong marketing tool.
First of all, it creates the first impression of the book and of the author. The book cover design is something that triggers the potential buyer to pick up this particular book from a shelf or an online store. When the reader sees a well-designed and attractive cover, they automatically think that the inside filling should be good. Moreover, you are most probably going to use the book cover everywhere to promote your story.
Attracts your target audience.
Another thing is that the book cover should relate to the book's target audience and, as a result, catch the reader's attention. The book cover is the only communication tool that tells the reader something about the book. To perform this task, a book cover should, above all, represent its genre. That's why it's important to make sure that all the book cover elements set the right tone and communicate the mood.
Helps you build an author brand.
The design elements you use on the covers can become your distinguishing feature. This is extremely relevant if you work on a book series.
Now, let's move on to the key elements of the book cover design and tips on how to make them stand out.
Elements of good book cover design
Take a look at the graph, which explains the book cover layout. To put it simply, there are three main sections: front cover, back cover, and the spine.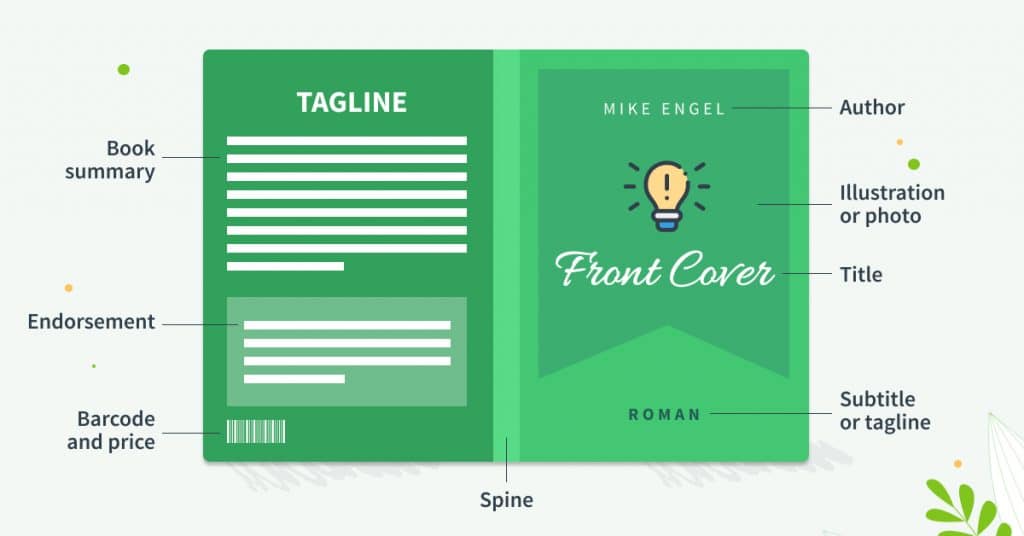 Now, let's take a closer look at the book's main elements and why every detail in their design matters.
Spine
The spine consists of the book title and the author's name. Sometimes there's also an author logo or a small picture included.
So what should you know about the spine?
An excellent typography practice is to have a sharp contrast between the letters and the background.
The font should be large.
If the book is thick, we recommend writing the title and the author's name horizontally, which is easier to read.
Last but not least, publications with a small clear picture indicating the book's theme attract more attention.
Front
The main elements of the front cover include the book title and the author's name, subtitle or quotations, and images. More on that later.
Here are the main front cover design tips:
Aim for clarity, don't overload your book cover with too many hidden messages and elements.
Make sure that your cover evokes the right emotions.
Only add a subtitle if your title does not communicate the complete message.
Back 
The professional back cover design contains the blurb, reviews, and information about the author.
It's important not only to describe the book, but also to demonstrate the author's competence.
Highlight what is worth mentioning.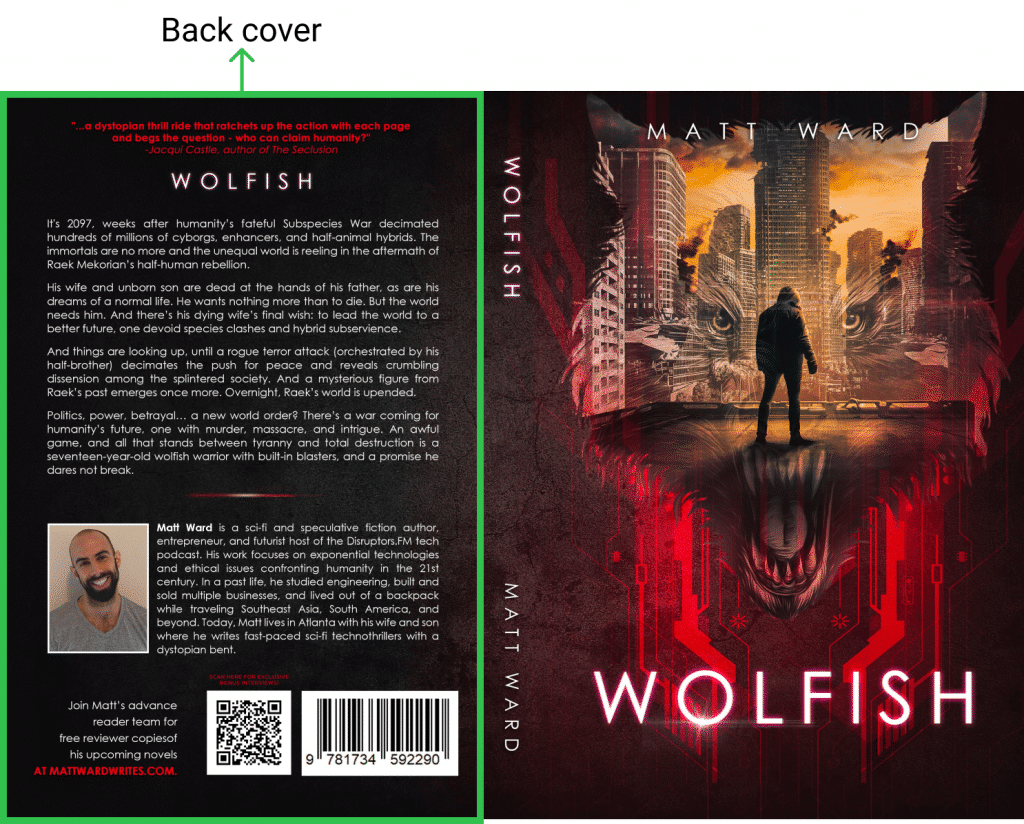 Interior
Here are some things to concentrate on when it comes to interior book design:
The text font should be clear and large enough.
Do not use elaborate or overly narrow fonts in headings and subheadings since they are difficult to read.
Make wide fields, but don't overdo it. Pay a lot of attention to margins and line width, since they affect readability the most.
Follow the formatting guidelines of the publishing platform.
Since we discussed the basics, let's review the main book cover design tips.
Book cover design tips
Any design begins with defining a key message you'd like to convey. Here are the main questions to ask when designing a book cover:
What is the main idea of your design?
How does the design fits the genre and content of the book?
Who is your target audience?
What emotions do you want to evoke at first glance?
What makes your book unique?
To generate ideas, you need inspiration. Here are some ways to find it:
Go to the bookstore and look at books that catch your attention. Analyze what made you pick them up.
Pay particular attention to works in your genre. Think about what ideas, colors, and elements designers used.
Fill your social media feed with beautiful book covers. You can create a board on Pinterest, subscribe to book-related Instagram accounts, follow famous authors that write in the same genre on Facebook, or ask for suggestions on Reddit.
Once you've collected ideas, move on to the details. There are three essential elements to pay attention to when designing a book cover: typography, color palette, and imagery. Let's see how to make them pop.
Typography tips
The font you choose has more value and meaning than the words you are spelling out.
Use fonts that are suitable for your genre. 
Set the right tone with the correct font. For example, clear, strong, massive letters are suitable for creating an adventurous set-up, while soft fonts can indicate romance. 
Don't go too creative when choosing a font, as it might be difficult to read.
Generally speaking, there are different types of fonts that are widely popular in book cover design:
Serif
Sans serif
Modern
Script
Each of them has a specific meaning and message.
Serifs are classy and somehow traditional.
Semi-serifs are more contemporary.
Scripts are considered to be creative, while modern fonts have a strong vibe.
A font is a visual key that tells readers what to expect from your book. On the other hand, the images you choose convey a story.
Imagery tips
First of all, choose what type of imagery you need: custom illustration or stock photos.
Here are some ideas on what to include:
Make a promise and show the emotion.
Introduce the "wow" factor. The easiest way to do it is through one central distinctive element. 
You also might want to give the image some space
 For example, introduce a scene with a small protagonist. That way you are signalling the reader to focus on the events in the book and how much they influence the main character.
Introduce the setting with a large face on your book cover.
Color tips
Use colors on your cover to express your unique message to the reader.
You can use several colors that are compatible with each other.
For more dynamic works, a design with contrasting colors might be a good idea.
Use soft colors to set a calm mood.
Set accents and decide what will play a central role in the design: font, imagery, or color.
Now, let's narrow it down a bit and go through the elements of good fiction book cover design and book cover design tips for every genre. Buckle up.
Professional book cover design ideas for different genres
Now, it's time to dive into the ideas for book covers in sci-fi, thriller and mystery, romance, and fantasy genres.
Science fiction book cover design tips
Sci-fi books most often tell a story of non-existing worlds, involving some technological wonders or rebellions. So let's see what design works best for this genre.
Typography
It's always a good idea to pick the font that will represent the genre itself. Since a considerable number of sci-fi books are about space, technology, aliens, machines, etc., you might want to choose fonts that have a scientific or technological vibe. A good option might be industrial Encode Sans, heavy Franchise or Greatlakes, and geometric Grov or Josephin Sans.
Here are some other font options suitable for the sci-fi genre:
Orbitron
Cosmic War
Star Jedi
Deadspace
Space Marine
Roboto
Matrix
Dynatron
Geom Graphic
Telegrama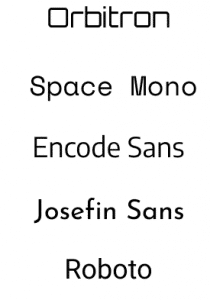 Colors
Cool blues, purples, and some metallic greys lead the audience to feel the sci-fi novel's mood. Blue most often creates the feeling of the calm before the storm in this case. So if your plot includes these details, here you go.
Imagery
Use the images to tell your readers what the book is about. Give them a glimpse of that outer space, alien creature, or technological miracle you describe in the book. It's a common practice to include some smoke and clouds as part of the background image.
Thriller and mysteries book cover design tips
A book cover design in the thriller genre should send some chills down your spine. How to achieve it? Let's take a closer look.
Typography
Most of the time, the typography matches the mood of the book and creates a sharp, edgy psychedelic feeling.
For all your mystic rivers, creepy spiders, bloody axes and screaming faces, you might want to consider one of the following fonts:
Violence
Ravenscroft
Scream real
Akoom
Chiller
Boycott
Feral
Showcard Gothic
Imagery
When it comes to images, there are a few popular techniques.
You can go with minimalism. Use the least amount of images to preserve the spooky mystery. You can take an element out of context and place it on the book cover. The reader will find out its meaning only after finishing the whole book.
Then, if there's a detective vibe in your story, you might hint at it by sharp contrasting silhouettes, rain, empty streets, dark cloaks, bullets, or bloodstains.
If it's a proper horror story, feel free to show some outrageous element on the book cover. Send a clear message of what the reader should expect from the plot. Let them feel the tension—for example, blood, haunted house, creepy creature, deformed body part. You get the idea.
Colors
What color do you immediately picture when you think about blood, aggression, fear, power? Yeah, it's red, blue, and black. And then the combination of red and black tells that the book is about violence and mystery.
Blue is often present on thriller book covers since the plot might involve water (bodies in rivers, bathtub scenes, etc.).
Romance book cover design tips
Who doesn't enjoy a good love story? Let's take a closer look at how to bring out romance and passion on the book cover.
Typography
If you are a proud author of a romance story, you might go with either soft feminine fonts or those that will evoke passionate emotions. Think carefully what impression do you want to make and you may choose one of the following fonts:
Bentham
Day Roman
Merienda
Lavenda
Water Brush
Butter Scotch
Vix Antique Script
Sofia
Amaze
Alex Brush
Bromello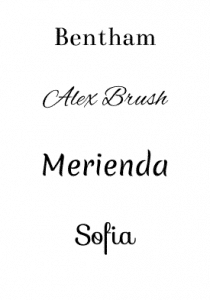 Imagery
Vanilla romance book covers most often include images of classical paintings, landscapes in soft pastel colors, the sky, a pretty female face with an expression of spirituality or sadness, flowers;
Other female erotic romance novels will strike with passionate couples, contrasting colors, a predominance of red, silk texture, satin, the presence of symbols such as red wine, red roses, red apples, red dresses;
It all depends on the plot, and the feeling you want to evoke.
Colors
It is a good idea to use a feminine color palette for book covers in the romance genre.
Light color palettes of gold, pink and white represent gentle feelings and romantic relationships.
Deep, bright pink, purple and red colors are more suitable for erotic romance novels.
Fantasy book cover design tips
What about fantasy and all the subgenres? There's a lot of space for creativity. Let's see what you can do.
Typography
Fonts perform a significant role in fantasy book cover design. You can use them to introduce a sub-genre and create a unique mood. This is exactly where you can experiment more with the typography size and color.
Just to give you an idea:
Oranienbaum
Apple Garamond
Trajan Pro
Cinzel
Gothic A1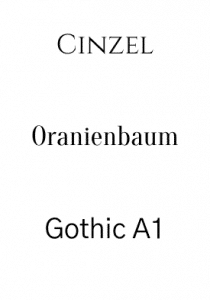 Colors
Fantasy book covers usually have vivid colors. Neutral black can be combined with bold red, green, purple, and other hues. It's also a great practice to choose one color and try mixing its tints and shades.
Imagery
A general rule is that the images on fantasy book covers should hint to some plot details and hook the readers without revealing too much.
You may achieve that by focusing on the main character's superpower. Or illustrate a magic light or a fireball to appeal to unreal effects.
Stay with us, and we'll tell you how to master color theory and psychology in book cover design.
Color psychology in book cover design 
There is a whole field of study called color theory and psychology. The idea is simple: every color represents and evokes certain feelings. 
So how exactly does this work in book cover design? Let's take a look at the few examples.
Red
Paint the town red! Red represents the active lifestyle, energy, confidence, and enthusiasm. It is used to grab as much attention as possible and get people to make quick decisions.
It's also the color of blood and fire. That's why dark shades of red are associated with anger, pain, passion, lust, and dominance.
Green
Light green signals tranquility and peace. It's no wonder, since it's the most relaxing color for the human eye to view. As a result, it's associated with nature, environment, harmony, stability, and health.
Different shades, tints, and hues of green have a completely different meaning. For example, dark bright green, though, is all about magic, mysterious light, and paranormal phenomena, potions and enchanted forests.
Blue
Blue is the color of peace, relaxation, and meditation. It's the color of depth and stability (think of the sea and the sky). When the reader detects blue on the cover, they may expect mental tension and a lot of food for thought.
You can take a look at more examples of color theory and psychology here.
Now, let's learn more about how to find a professional designer who will take care of your book cover.
Cost of book cover design 
When it comes to the book cover design services, there are quite a few options to choose from. It all depends on your budget, needs, and expectations. Let's take a closer look:
Book cover creators
This is the DIY area. You may check out Canva, Adobe Spark, Visme, or Figma. If you decide to go down this road, keep in mind that it might be time-consuming. Especially if you don't have any prior knowledge in design, get ready for an anxiety roller-coaster.
Fiverr, Upwork, Dribble or other crowdsourcing platforms
This is the land of freelancers. Apply the rule 'you never know'. Some of them are great and are working on expanding their portfolio. Some might be tricky to deal with and use questionable stock images that infringe on copyrights.
Average price range: $5-50
Book cover design company
These guys usually provide excellent quality and are willing to network to spread the word around. They most often have a good number of in-house- designers and some freelancers as well. In any scenario, you will be dealing with those who make a living out of book cover design. So why not? The competition keeps prices similar, without driving them up. The tricky part here is that it's sometimes hard to tell the design skill levels.
Average price range: $50 – 500
High-class
That's the natural habitat of high-class designers. They might be working for big publishing companies and have a different attitude towards the cover creation, e.g., actually read your book. Top-notch service no doubts, but the price might be a tricky part.
Average price range: $1000 – 2000
As you might see, there's a wide range of book and e-book cover design prices out there.
Another thing to keep in mind is whether you should go with a pre-made book cover or a custom one.
Pre-made vs. Custom book cover design
Let's compare two options here: pre-made and custom book cover design.
Pre-made book covers are exactly what the name suggests. You can choose from a variety of covers that have already been professionally designed.
Pros of pre-made book cover design
So what are the pros of pre-made covers?
+ You will save a lot of time. You can instantly wrap the book cover you just purchased around your book. It's like shopping.
+ It will not hurt your budget. Pre-made covers are cheaper than custom-made ones.
+ It's convenient. If you are working on several books at the same time, consider pre-made covers to not worry too much about time and money constraints.
Cons of pre-made book cover design
Now, let's take a closer look at the hiccups that might come along with pre-made covers.
– Genre. Though fantasy and YA fiction, pre-made covers communicate the genre very well, the pre-made cover is not always a 100% match.
– Book series. If you are working on a book series, it's best to get a custom book cover that will link all the books together through a similar design.
– Author brand. If you are building an author brand, it's important to have consistency in your covers. Pre-made ones quite often can not guarantee that. 
What about custom book covers?
Pros of custom book cover design
Professional book cover design is created just for your book and will capture the essence of the story.
Here're a few distinctive advantages of choosing a this approach:
+ Unique design.
+ The cover includes all the features to express the mood of your writing. 
+ You are involved in the design process. You can make suggestions and ask for revisions to ensure that the final result meets all of your needs.
Cons of custom book cover design
There are also some difficulties you might face:
– Budgetary constraints. Custom-made book covers are more expensive than the pre-made ones.
– Time. Sometimes you need to wait for a week or more to get your book cover. 
Finally, let's go through a list of things to keep in mind on how to hire a professional book cover designer.
How to hire a professional book cover designer
Start the discussion with the professional book cover designer by deciding on the following aspects:
First of all, you need to ask for the designer's portfolio
Ensure that the designer has experience in your genre.Don't take a leap in the dark.
Discuss your constraints (budgetary, graphic, technical)
Set up your budget and describe all the don'ts' when it comes to some specific design elements:starting from the colors and details you'd rather avoid, and moving on to the deadline, formats, series, etc.
Remember that you should be clear and precise with yourself or the designer regarding your needs and expectations. A book cover design brief might be a solution.
How to write book cover design brief
Unfortunately, most of the time, the designer won't read your entire book. It's up to you to pinpoint the most critical parts. Compress your whole book into a few key ideas. To make the cooperation more efficient, the designer can ask you to fill in the creative brief. Here is what it includes:
The book title, author's name and genre .
Tagline (if you have one). It might help the designer capture the essence of the book.
Description and extra text (general and specific details). This one might be painful. But at the same time, it serves as the most valuable part of your cover design brief. It's all about summarizing and highlighting important features. Initially, focus on the number of characters, gender, behavior patterns, appearance, outfit, and historical time-frame depicted in the novel.
Target audience. Explain your ideal reader, their preferences, likes and dislikes. 
References. Provide other author and novel names as references. You can mention heavy hitters. How about Stephen King, J.K. Rowling, in other words, the legends? It will help the designer to capture your expectations with visual evidence. You can also gather 3-5 examples of book covers in your genre. Specify what you like the most: colors, font choice, graphic elements, and so on.
Conclusion
This should be about it. Come back to this book cover design guide every time you have questions regarding your book cover. You'll find all the answers you need.